Tablets are incredibly popular due to the fact that you can stay online wherever you are in the world, plus the fact that they are pretty light and portable.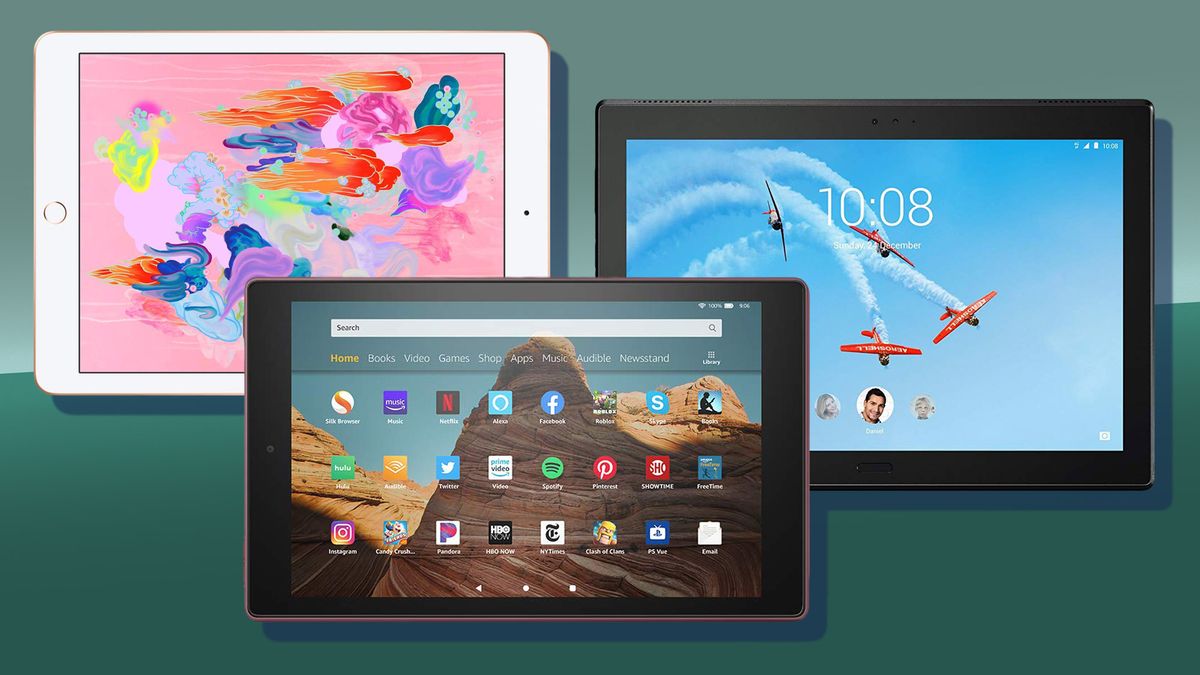 They can easily be carried with you and take very little space and most people tend to use them as a bridge between their mobiles and laptops for pure online browsing.
We hope you find the following tablets online guide useful.
Different Operating Systems
There are many tablets online to buy and just like other devices like mobiles and laptops, tablets are just another device type that manufacturers have extended out to and establish their own competing operating systems to work off. The main benefit is the screen size.
Android
Android operating is also often referred to as Open Source and has been developed by a number of developers led by Google. It's mainly designed for smart touchscreen devices like mobiles and tablets and is used by some world's biggest manufacturers like Samsung, Lenovo & Huawei
Typically most android devices open or default to the home page that displays icons and other general interest topics like the weather, emails and a news ticker. Each manufacturer will try and differentiate their own devices but they are basically pretty similar-looking and can be changed to suit the user.
Fire
Fire Tablets are those owned by Amazon and as you would expect have a different interface to android devices. These have been configured towards amazon's own set of products and a search engine called Silk.
The Fire Operating System is based on android, but without the google centric apps., so google play store is replaced with Amazon's own store.
They have been mainly designed for entertainment with standard icons for different types of providers like YouTube, Netflix, Amazon Audible & Prime and games prominently displayed on the homepage.
iOS
These tablets on iOS are apple based and are the next most popular operating system after Android and the iPad is its most known tablet product.
Like Amazon's interface, there is a limited choice for customisation and choice of apps you can install. However, Apple, in general, is known for having better-designed products are this is no different, but unlike Android which is opensource iOS is closed (with open source components).
Linux
Linux started life on personal computers but since like other operating systems developed to other portable devices.
Very much like Android in that, it's an open-source "Unix-like" operating system and is based on the Linux kernel (developed by contributors worldwide, is free and open-source). What you may not know is that android devices are based on Linux kernel like the Google Chromebook.
Although in it's own right it has a smaller market share, in reality the wide use of android devices means that it has a massive market using it. As a price of software the source code may be used, modified and distributed by anyone, making it highly customisable.
Windows
The final large dominant player is the Windows Operating System that is very Microsoft centric. For some these tablets are a good in-between for work and play and are used by the corporate and IT geeks alike.
These are highly compatible with the Microsoft products and accessories that allows easy plugging of keyboards, mice and docking stations and there is greater blurred lines between a laptop and tablets due to the ports available. Windows have their own app store but not the choice of google play.
The other advantages of using a Windows tablet is that you can download non-Microsoft o nits devices (not possible the other way around) and it will run smoothly with multiple open apps at the same time.
Types of Wireless Technology
Wireless simply means that you can move around with a device connected online without having to be bard wired in a fixed location. As technology develops there are stepped improvements that are categorised as the next generation.
3G
Launched in 2010 3G (3rd Generation) is a superfast network of data transfer usage and 10 times quicker than its predecessor 2G (mainly digital voice) and ushered in a new era for mobile data usage. Its predominantly used in mobile devices that connect to the internet to make calls and download data and surf the web.
3G was a major step in the evolution of data technology as it allowed for greater data handling without latency and elevated online video streaming in particular that led to a massive surge in OTT (Over The Top) online services offered by the likes of Netflix and YouTube.
4G
4G & 4G LTE (4th Generation) elevated 3G by offering a ten-fold increase in data speeds that fed the data-hungry consumers to watch even more video-based online services over wifi with greater bandwidth of about 10mb per second.
This also meant that new mobile devices had to be developed to handle the download speeds and meant that you could download a movie in less than a minute to watch offline to view later, or like many people watch online content with little disruption.
5G
5G (5th Generation) is the newest evolution of technology that has moved the world into a new phase of interconnected devices and entering the world of AI (Artificial Intelligence) and VR (Virtual Reality) that will always be "on".
This is a stepped changed that is and will allow bigger devices such as driverless cars to communicate with other devices (other vehicles, signals, mobiles) and respond to them accordingly to provide safer "autonomous" travel.
For your mobile devices, this means virtually zero lag or buffering like you are hard connected and like 4G it will allow multiple times quicker download speeds again that will mean a movie can be downloaded in a couple of seconds with download speeds of 20 GB per seconds!
At the time of writing, 5G is still being deployed across the world and new devices are being launched to work with the new technology. For may tablets online this will revolutionise how you connect with your environment more and do more exciting things.
WiFi
WiFi technology allows devices to communicate without direct cable connections (as outlined above). It provides internet access from a phone, tablet or laptop.
In most homes, you connect your devices through a router that is fixed or wired through the phone line or a box that transmits or receives signals from your telecoms provider.
You can use the signals to connect multiple devices, like smartphones, computers, tablets, and smart TVs, that receive their internet connection via Wi-Fi from the router.
Depending on your needs you can create a powerful home WiFi network that can provide strong signals in most areas of your home and new technology like a mesh network can aid this. You can read more about wifi here
Tablet Features
With Camera
Do you need a camera with a tablet? In most cases probably not as you'll be just browsing the internet. However, if you install apps like Skype, MS Teams and WhatsApp then you can make video calls to whoever.
Also, you may want to record videos of yourself or wherever you are and broadcast them on YouTube, Facebook Instagram. Or you could just take camera shots as you would instead of using a camera.
In any case it can be a useful feature to have and most tablets
Quad Core
Having a quad processor chip are four independent cores or units that reads and executes CPU instructions like move data and add. Each core operates with other circuits like cache, memory management, and input/output ports.
Generally, a dual-core (see below) will suffice for most people so you don't need to pay extra for it unless you want more speed and more power for highly intensive tasks.
Dual Core
Following on from above, a dual core processor helps the tablet run quicker for everyday use and is more than perfectly acceptable for most users. So unless you'll be using it to run multiple apps or using a lot of memory that requires a lot of behind the scenes complex calculations then stick with it.
GPS
Do you want to be able to see your location? if so, then having a GPS feature will be helpful and best of all you don't need a connection. MapFactor Navigator is a free GPS navigation app for Android phones and tablets using OpenStreetMaps data.
Card Slot
If you want to expand your memory or save files to a card then having a card slot will be extremely useful to have. Tablets with this option table MicroSD cards, so you also save pictures to a car instead of in the cloud or even have a video or movie on your card that you can view later.
G Sensor
A G-sensor is a motion sensor that can measure the linear acceleration. in android devices, it detects the player movements by means of providing the sensation of movement control in a game.
It is more useful for most users is to make sure the pictures are always shown upright, so this avoids you turning your tablet around.
TABLET FAQ's
What Tablet Is Best For Online?
There are so many tablets to choose from that are designed to connect you online. It all depends on what your budget is? If you start with that, then you'll at least get to a list, where you can filter it down to your favourite brand name. Check the Tablets section on our site.
If you have a certain brand of mobile phone then maybe choose that then at least you'll be able to synchronise some of the data across both devices.
Also, think about how often you will use it compared to your mobile and laptop if you have one. If it's pretty infrequent then maybe you don't need a higher spec one, or if you use it for a couple of hours a day then maybe get the best you can afford.
Where Can I Buy Cheap Tablets Online?
Most electronic shops sell tablets at different prices for different specs. However, we suggest you start with us if you want to bag yourself the cheapest prices as you'll be surprised with some of the price differences amongst retailers.
Can We Use WhatsApp in Tablet?
Yes, you can use WhatsApp in a tablet.
Firstly search for WhatsApp in the PlayStore (Android devices)
Alternatively, follow these steps:
1) Enter this in your browser: web.whatsapp.com
2) Open WhatsApp on your smartphone and click on the three dots at the top right.
3) Then select "WhatsApp Web"; your camera starts up automatically.
4) Scan the QR code on your tablet. WhatsApp now opens on your tablet and is ready for use
---
We hope that you have enjoyed reading this Tablets Online Guide and have learned more than you did before?
We always welcome feedback and your comments below.