Our Weekly Product Pick:
Power Air Fryer XL 5 Litre Digital – Black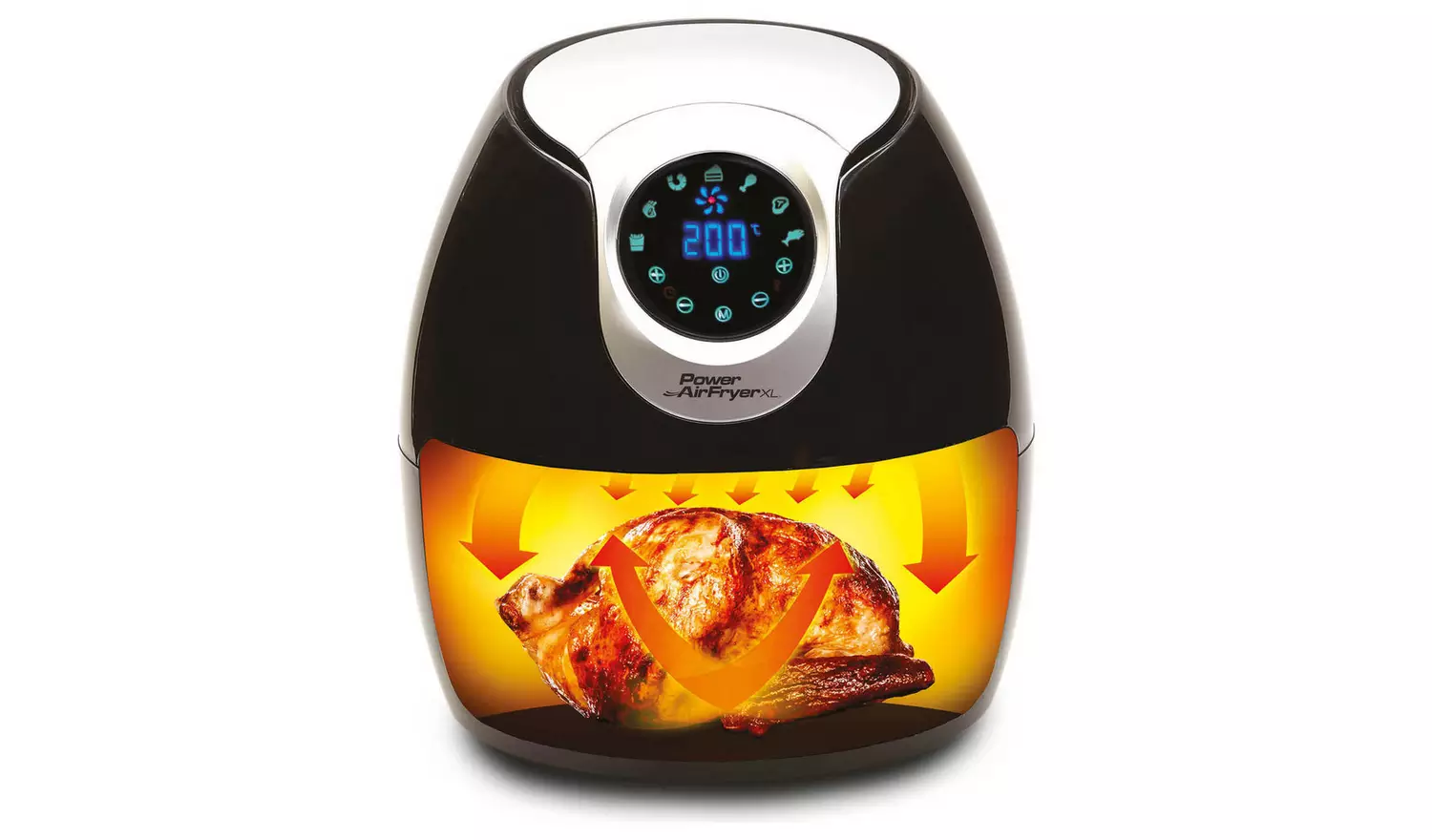 Air Fryers use hot air technology and less oil to cook healthier for your favourite fried foods is less time. Over it's a quicker, easier and a cleaner alternative to deep-fat frying and oven cooking.
It's no wonder that Air Fryers are getting a lot of publicity and coverage due to these benefits and as result manufacturers have developed lots of different models available to buy.
Many now have different functions depending on your needs and generally are inexpensive, making it affordable for many people.
What is The Power Air Fryer XL?
Power Air Fryer XL is the five-in-one product featuring a 5-litre capacity. It uses hot air technology and less oil and fat to cook healthier versions of your favourite fried foods in next to no time.
You get that perfect golden fried taste and texture on all sides with little to no oil. It's a quicker, easier and cleaner alternative to a deep-fat fryer or conventional oven with 80°C to 200°C temperature options.
Main Health Features
Healthier Cooking with Less Fat
In general, all air fryers work by circulating hot air around the food to produce a crunchy, crispy exterior. So instead submerging the food in oil, air-frying just needs a tablespoon of oil to achieve a similar taste and texture.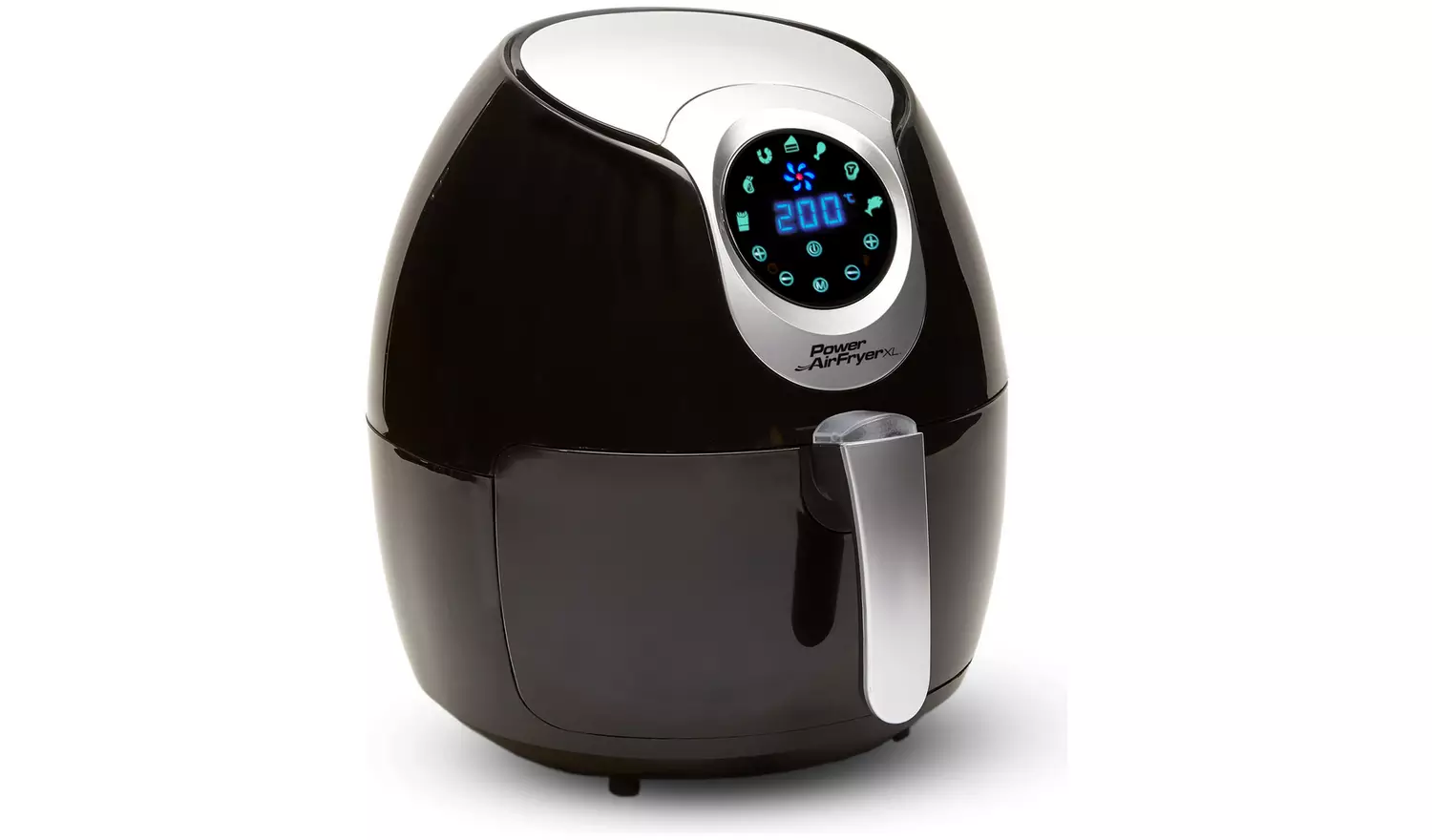 Upto 70% Faster Cooking
Cooks up to 70% faster than conventional cooking methods without the hassle of preheating the oven. So this means that you don't need to wait for the oven to come up to heat before it cooks. Air is blown down the outside of the air fryer, and then it circulates back up through the middle.
This air fryer quickly heats up and starts cooking your food within a minute or two. Just be careful not to overcook and maybe reduce the temperature down as per the instructions.
Air Fryers Are Easy And Safe To Use
With only a touch of a few buttons, you will on your way to cooking heaven. The Power Air Fryer XL is digital so you just have to select the correct temperate and timings to send you in your way.
Furthermore, it's super easy to clean, as with this all you need to do is wipe clean the removable bowl.
Power Air Fryers Available to Buy
Other Health & Safety Features
Rise and fall basket to allow the oil to drain from the food
Odour filter
Oil filter
Safety cut out
Dishwasher safe parts
Air Fryer Recipes
So what can you cook with an air fryer. There are some many recipes that you make. Popular recipes include air fried chicken, shrimp, fries and so much more!
Air Fryer Brussels Sprouts – combine oil, salt, and pepper in a bowl and mix well. Add Brussels sprouts and turn to coat. Air fry for 5 minutes, shake the sprouts and cook for an additional 5 minutes.
Air Fryer Ranch Pork Chops – lightly spray both sides with cooking spray. Sprinkle both sides with ranch seasoning mix and let sit at room temperature for 10 minutes. Cook for 5 minutes. Flip chops and cook 5 minutes more. Let rest on a foil-covered plate for 5 minutes before serving.
Air-Fried Sweet Potato Fries – combine sweet potato fries and canola oil in a bowl and mix. Season with salt, pepper, garlic powder, and paprika. Mix until all fries are evenly coated. Insert in the air fryer, and cook until golden, about 10 minutes. Repeat with remaining sweet potatoes.
Find these are more at AllReceipes
Video highlighting the main features
FAQ's
Is the Power XL Air Fryer Good?
It's one of the best value Air Fryers you can buy for in this price bracket. You can buy more expensive ones out there but if you want on that has high ratings across the board then this is it.
What Is The Best Extra Large Air Fryer?
What Size Is The Power Air Fryer XL?
The power air fryer has the following: a claimed capacity of 5.3 qt. pre-programmed settings for cooking foods. The product dimensions are H36.6, W32.2, D32.2cm.
Does the food taste like it is deep fried or baked in a convectional oven?
It's definitely not greasy at all, but it does get crispy. This is a healthy alternative to fried food that does not require you to soak it in oil. Using only a teaspoons means that you get that crunchy taste without you consuming excess oils.
Have Anyone Fried Chicken And How Did It Come Out?
Set to 200 degrees and set for 10 minutes. After turn over legs and give it another 10 minutes. Season them with salt, pepper, garlic powder and paprika. Nice.
Check the Full Range of Samsung Galaxy Watch 3
---
Samsung is one of the world's top technology companies more about them here